Commitment involves not just our heads, our hearts, and our hands but also our pockets. Where and how we spend our money is a fair indication of what is important to us.
As part of belonging, it is important that we plan regular giving to the church. Planned giving also helps the church to plan its finances too.
The Bible teaches us to give generously to God's work with the expectation of a tithe (10% of income) being normal. It is between you and God that you decide your level of giving to be.
At All Saints, Belton, we take an offering. The collection basket is located at the back of the church. However, many people give through monthly Standing Order payments.
If you would like to use Standing Orders, please speak to the treasurer or download the form (also available from the giving desk at the back of the church near the sound desk).
There is also an envelope scheme that helps with regular giving. If you wish to have a set of envelopes, please speak to one of our Church Wardens or our Treasurer.
Easy Fundraising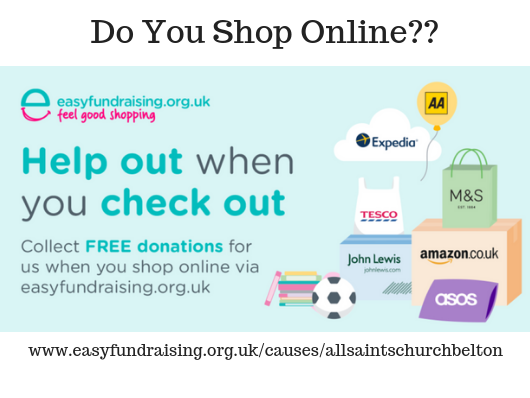 ---
Using easyfundraising is just about the simplest way to raise money for your good cause. If you're wondering what it's all about, read on…
What is easyfundraising?
easyfundraising is the UK's biggest charity fundraising site. It's simple to use, and it's free.
How does easyfundraising work?
easyfundraising turns your everyday online shopping into donations for your good cause, at no cost to you. How? Just visit your favourite retailers through our website and the shop as normal. Once you've made a purchase the retailer will then make a small donation to your cause to say "thank you".
Can I buy everything online that I would normally?
Yes! easyfundraising's 3,500+ retailers include big names such as John Lewis, M&S, Boden, Expedia, Amazon, eBay, all the major supermarkets, holiday operators, insurance providers, plus a wide range of smaller and more niche online shops and stores.
For more information check out https://www.easyfundraising.org.uk/blog/how-does-easyfundraising-work-a-guide-for-shoppers/
Operation Christmas Child
CONTACT PERSON – ISABEL BIRTCHNELL
---
Help fill a shoebox with small gifts to spread God's love to a child affected by poverty, war, famine or disaster. Shoebox gifts from the UK are sent to 13 countries worldwide in Eastern Europe, Africa and Central Asia.
Can you help by providing any of the following? Something fun, something to love, something creative, something to keep clean with, something to put on, something to learn with, something homemade (but nothing containing stuffing).
Please give any gifts/donations to either Isabel or Anneka.
Certain items are excluded so please check the information on the Operation Christmas Child web-site.
Regular Giving
You can set up a regular giving donation to All Saints Church through your bank. The Church bank account details are on the table next to the offering basket.
---
If you are a UK tax payer and wish to gift aid your donations then please fill in the gift aid decleration form (found on the offering table) and return it to the treasurer.
---
If you are unable to attend in person but wish to receive the details to make a contribution then please contact the treasurer at [email protected] or message us through the website or on facebook.